---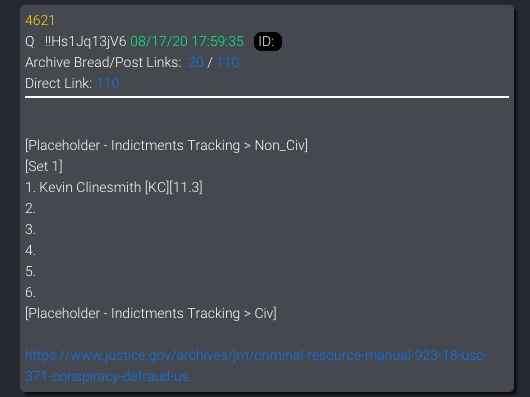 Q Drop 4621
Think for yourself. Get real-time Intelligence Drops, Tweets and GETTRs. Do Research. Be an Autist. We are the news now. WWG1WGA!
La loi générale sur la conspiration, 18 U.S.C. § 371, crée un délit  » si deux ou plusieurs personnes conspirent soit pour commettre un délit contre les États-Unis, soit pour frauder les États-Unis ou l'un de leurs organismes de quelque manière ou à quelque fin que ce soit « .
923. 18 U.S.C. § 371—Conspiracy to Defraud the United States
This is archived content from the U.S. Department of Justice website. The information here may be outdated and links may no longer function. Please contact webmaster@usdoj.gov if you have any questions about the archive site.
SpyGate – ObamaGate – FISAGate, ou le plus gros scandale politique de l'histoire américaine
Dans cet article, nous allons tenter de vous donner une bonne compréhension d'un scandale politique majeur qui se déroule actuellement aux US. Ce scandale est connu